For almost six decades, Technical Micronics Control, Inc. (TMC) – a Service-Disabled Veteran–Owned Small Business (SDVOSB) – has been continually servicing the space industry with precision chemical cleaning, tube bending and panel fabrication, cleanroom services/assemblies, cleanroom rental, cleanroom consulting/design, hydrostatic/pneumatic testing, and cryogenic testing. TMC has proudly supported the Saturn, Apollo, Skylab, Space Shuttle, and Space Station programs (just to name a few), along with more recent support of SpaceX, ULA, Boeing, Teledyne Brown, and Blue Origin projects.
Today, TMC, headquartered in Huntsville's Cummings Research Park, continues to expand and diversify to meet the ever-changing needs of both government and industry for precision cleaning and testing techniques.
A small but diversified business, TMC – originally named "Temperature Measurement Control, Inc," – was established in 1965 to develop a temperature measuring device. Its primary focus in those early years was the support the highly demanding precision cleaning projects of NASA, the U.S. Army Missile Command, and their contractors. In 1967, the firm's name was changed to Technical Micronics Control, Inc. to more accurately reflect its missions and direction. George Epps, one of the initial investors, joined TMC that year and later served as its Chairman of the Board.
TMC has achieved and maintained a superior reputation in all its fields by building a highly competent staff in each of its expertise, as well as by tailoring its services to each customer's unique needs. In this way, TMC is able to provide those customers with personal, individualized attention.
About Our Founder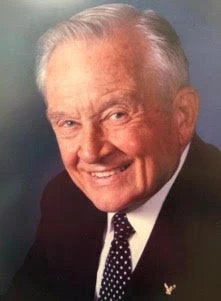 George Epps was born on April 24, 1927. He enlisted in the military, serving in the Navy from 1944-1946. After his time in the military, George was a part time instructor at the Georgia Institute of Technology. George had an amazing life full of different careers. George worked for the Douglas Aircraft Corporation and the Lockheed Aircraft Company, helping to design aircraft equipment and layouts. He started as an engineer at the Brown Engineering Company and then worked his way up to Senior Vice President. He was the Senior Vice President of Spaco where he managed the engineering organization of over 300 personnel for missile development, as well as space booster efforts for the Apollo moon program. As one of the initial investors, George joined TMC in 1967 and later served as Chairman of the Board.
George opened his home to his extended family for 56 years for the Epps Family 4th of July Celebration and in doing so, enabled a tradition of togetherness that has shaped the lives of all around him. His rich history in general aviation led to his induction into the Alabama Aviation Hall of Fame.